The Social Coupon plugin for aMember allows you to offer a discount coupon to people who complete a specified social action, including Facebook 'like', Google Plusone, Linkedin share, Twitter tweet or Twitter follow.
This is a great way to encourage and reward viral recommendations from the people who really matter – your customers!
Plus, it helps you avoid losing customers who might otherwise delay a purchase while they go hunt for a coupon on the internet.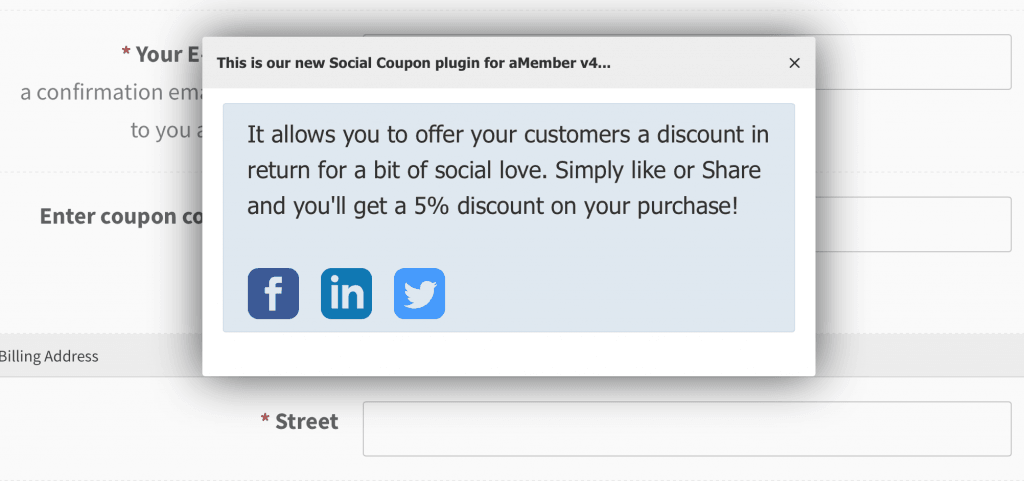 Features of the plugin include:
Covers the Most Popular Social Actions:
Choose from Facebook 'like', Google Plusone, Linkedin, Twitter tweet or follow. You control the social actions you allow, and you can set the URLs they use individually.
Optional 'Lightbox' Mode:
By default, the social coupon box is displayed at the top of the orderform to showcase your social proof. Alternatively, you can choose the more discreet 'lightbox' mode (pictured above) which is activated by clicking a button next to the coupon box.
Cart Module Support
Works with aMember's cart module as well as regular signup forms
Auto Hide on Error:
The social coupon feature is hidden if the coupon expires or it isn't valid for a certain customer (e.g. they already used it), or if Javascript is disabled – so it only appears when it can actually be used!
Auto Reset for New Coupon:
If you change the coupon code, the social coupon feature will 'reset', allowing you to encourage customers who have previously completed a social action to do so again.
Fully Customisable Messages:
You can set the title and message that is shown in the social coupon box, both 'before' and 'after' the social action – including HTML if you wish! So you can give your customers the exact experience you desire.
Simple to Install
No programming knowledge required. Simply drop the plugin file into your aMember plugins folder, configure the options you want and away you go!
Unencrypted Code, Unlimited Personal Licence
The full source code is visible, so you can customise to your needs. Your purchase allows you a lifetime licence to use this plugin on all aMember sites you personally own.
Comes With 6 Months Support / Updates
You also get free email support and the ability to re-download the plugin and any updates / bug-fixes for a period of 6 months from date of purchase.
Order now for just $37.00
Ps: You can test it out on our order page, and save 5% on this plugin too 😉
Requires aMember v6 or higher and PHP 7.2 or higher
What Customers Say…
If you require support for this plugin, please contact us here.