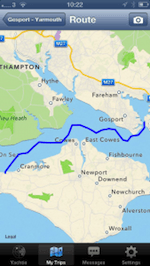 Yachtie was always a labour of love for me, and was pretty groundbreaking when I created it back in 2011.
But all good things have to come to an end, and with limited spare time to work on it, it was not only starting to show its age, but was also being eclipsed by some of the newer, shinier apps in the store.
And faced with an overhaul on the horizon for IOS 12, and the hassle of GDPR, it seemed a good time to finally say goodbye.
Thanks to all of you who downloaded and used Yachtie over the years. There were yachts registered in all corners of the world, and it was the tracking companion of choice for one or two circumnavigations too.
It's sad to see Yachtie sail into the sunset, but I'm pleased that I was able to play a small part in helping Yachties keep in touch with each other and their families over the years.
Fair winds and following seas to you all.
Rob