The Conversion Tracking plugin for aMember makes it simple to add conversion tracking codes, such as Google Adwords, Twitter etc, to your aMember site, so you can calculate your return on investment from your advertising.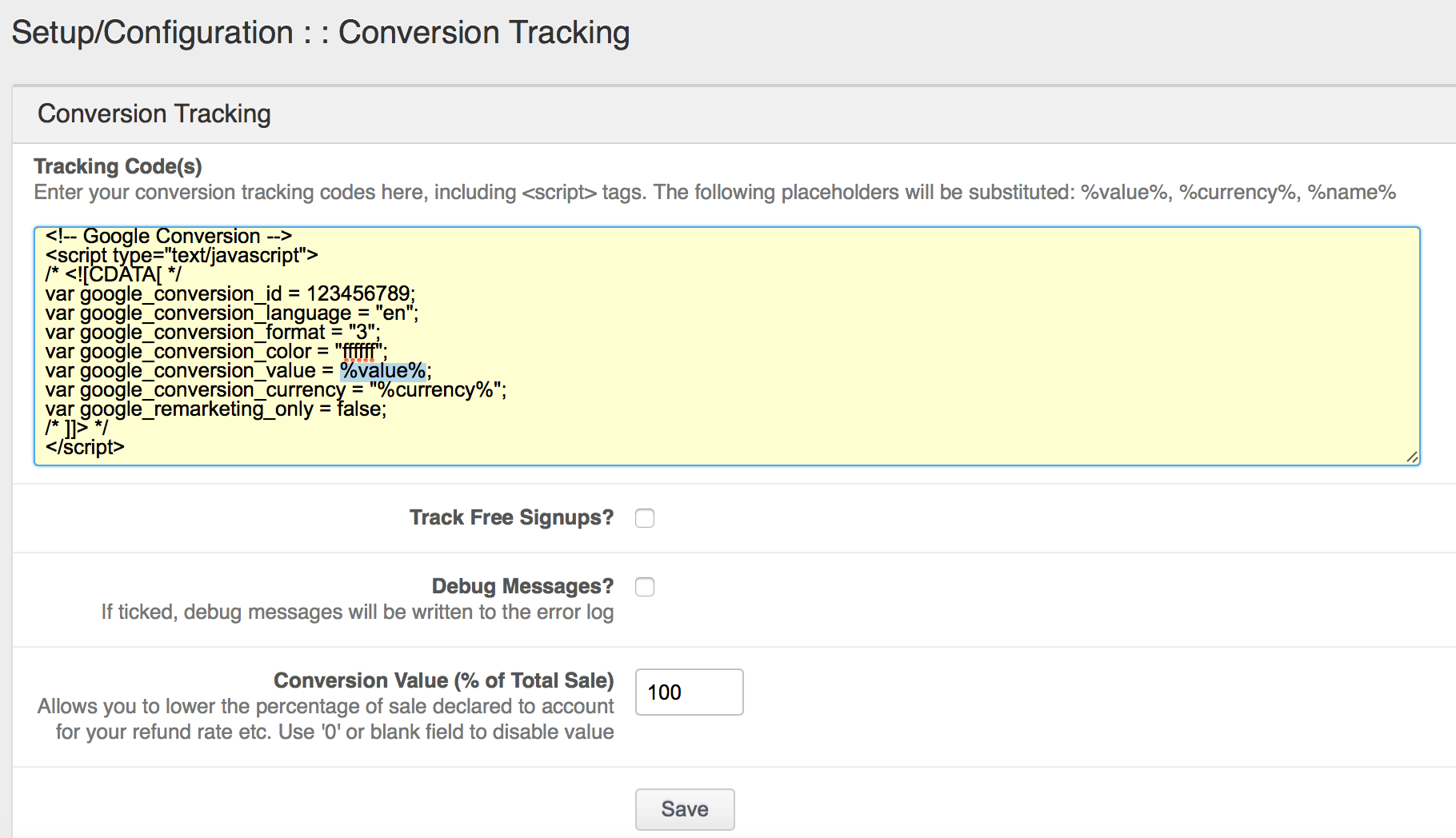 Features of the plugin include:
Includes Sale Value, Currency and Item Name
Automatically adds the sale value, currency and item name from your aMember invoice to ensure your conversions report the most accurate data. You simply pop the placeholders into the right spot in your conversion code.
Add as many conversion codes as you need
The plugin substitutes all instances of placeholders, so you can add conversion codes from multiple advertisers.
Option to Adjust Sale Value
You can set the percentage of sale value to report, which is useful if you wish to take account of your typical refund rate, for example.
Option to Track Free Signups
You can choose to treat free signups as a conversion or track only paid orders
Simple to Install
No programming knowledge required. Simply drop the plugin file into your aMember plugins folder, configure the options you want and away you go!
Unencrypted Code, Unlimited Personal Licence
The full source code is visible, so you can customise to your needs. Your purchase allows you a lifetime licence to use the Facebook Conversions plugin on all aMember sites you personally own.
Comes With 6 Months Support / Updates
You also get free email support and the ability to re-download the plugin and any updates / bug-fixes for a period of 6 months from date of purchase.
Requires aMember v4.2.12 or higher (fully v5 compatible) and PHP v5.4 or higher

If you require support for this plugin, please contact us here.
Ps – Want to track Facebook conversions in greater detail?
Check out my dedicated Facebook Conversions plugin.